Catherine, a business intelligence project manager in the enterprise portfolio management office of MTN Uganda Limited, guides the organization to make informed decisions in all matters related to network service delivery and customer satisfaction. She is dedicated to leaving no one behind and is on a mission to lower the attrition rate of women and girls in the fields of science, technology, engineering, and mathematics (STEM). Catherine holds a Master's degree in Management Studies in Project Planning and Management, a Postgraduate Diploma in Project Planning and Management from Uganda Management Institute, and a bachelor's degree in Electrical Engineering from Makerere University.
Tshego Tlhapi is the Chief of Staff in Strategy and Corporate Affairs at one of the largest development finance institutions in Africa. Her expertise span multiple disciplines, with experience in engineering, investment management, technology, strategy, non-profit organization management, entrepreneurship, and business management. Tshego holds an MBA from the University of Stellenbosch and a BSc (Eng.) in Chemical Engineering from the University of Cape Town. She brings to the team her finance, investment, and business management knowledge and expertise, as well as her vast experience in managing a non-profit organization focused on the girl-child.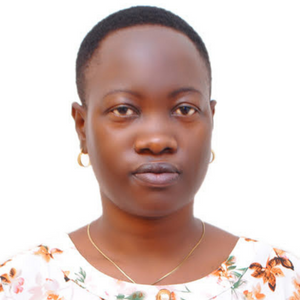 Josephine has over ten years of experience as a professional accountant working for media companies like Ssuubi FM, Namirembe FM, and Digida FM, all found in Kampala, Uganda. Josephine currently works with St. Thomas Aquinas Kawempe as the school bursar. She is passionate about empowering girls and women. She holds a bachelor's degree in arts from the University of Nairobi and a diploma in information technology from the Kenya School of Professional Studies.
Elizabeth has legal experience with engineering inventions and scientific research. She is partially qualified in European patent law and holds a Ph.D. in Physics. Elizabeth wants to use the abilities and knowledge she has acquired to aid others and empower more women and girls around the globe. Elizabeth also works as a volunteer for a women and girls' charity in the United States. Her expertise in writing grant proposals and conducting legal research enables others to find the funding and opportunities for collaboration they need to succeed.
John has more than 15 years of experience working in financial institutions and is a skilled financial and business advisor. He has extensive experience in financial management, operations, credit, and strategy. He has developed a reputation for excellent operational, credit, financial, and strategic innovation. John holds Master's in Business Administration from the University of Nicosia, Cyprus, Bachelor of Arts in Management from St Marks & St. John University, United Kingdom, and is currently pursuing a Doctor of Philosophy from Unicaf University in Zambia.
Silvia Illescas is a Public Policy advocate passionate about sustainable development, gender equity, health for all, and human rights. Silvia has worked across Central America, Europe, South-East Asia, the Pacific Islands, and East Africa. She has developed solid expertise in building strategic partnerships and regularly collaborates with bilateral agencies, UN agencies, IFIs, the private sector, NGOs, and civil society to create strategies that will positively impact vulnerable populations. Her areas of expertise include advocacy, high-level meeting and events organization, policy advice, multi-stakeholders coordination, and resource mobilization. Silvia is a Cambridge Institute for Sustainability Leadership alumni and has worked with the World Health Organization, the International Committee of the Red Cross, the Ministry of Health in Papua New Guinea, and others. She holds a Master's degree in Economic Analysis of the Law and Public Policy from the University of Salamanca. She is currently doing a Master's in Public Health at the London School of Hygiene and Tropical Medicine. 
Maimoona Sheila Salim is a social entrepreneur, mentor, and philanthropist, actively involved in the development space focused on community, women, youth empowerment, and sustainable development programs. She is the founder of the Bridge the Gap program instituted to upskill youth, enabling them to transition into the global economy. She is a qualified facilitator, and her key strengths are human capacity development, skills development, and empowerment. Maimoona has trained NPOs, Corporates, and Governments in various Strategic leadership and management programs, dealing with Corporate Culture, Change management, Diversity and Inclusion, and Conflict Resolution. She is an active exco member of the general assembly for the Women Community in Africa. Maimoona is also the Vice-Chair for women in business at the Durban Chamber of Commerce Industry based in Durban, South Africa, and was a nominee for the Standard bank Top business award 2019 and one of the adjudicators for the KZN Global Investor award 2019.
Maimoona is currently the MD of Beyond Mentors Limited, Secretary/ Registrar of the Academic Council Human Rights Education Federation of the IHRC Africa Headquarters, Global Marketing and Fundraising Director of the African Woman Leadership Organisation (AWLO) and a trustee of Ethekwini Community Development Trust (NPO), aboard of trustee for Advanced Digital Opportunities Foundation Nigeria and Peace Players South Africa.